Grasslands Dental Care you'll find a wide range of general dental services, including fillings, crowns, bridges, dentures, implants, root canal therapy, and more to keep your family smiling.
---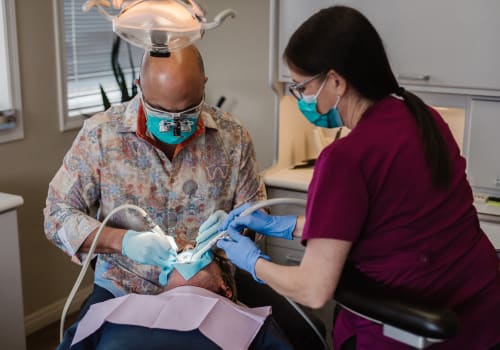 The key to good oral health is prevention. A good oral healthcare routine at home can keep your smile healthy for a lifetime.
Regular check-ups can help identify your risks before they become a problem. In fact, at Grasslands Dental Care we follow the Kois Principle in our practice which enables us to identify your risks and treat them before they cause dental disease.
By understanding your risks we can identify the 'why' of a problem and treat it and help prevent problems before they develop.
---
Fillings
Fillings are recommended for treating teeth with dental decay, for teeth that have been cracked or damaged, or to simply replace an existing failing filling to prevent new decay from occurring. We use bonded fillings made of a composite resin that's similar in colour to a patient's tooth so that it blends more naturally than silver amalgam fillings.
---
Dental Crowns
If a tooth can't be repaired with a filling or another dental procedure then we might recommend Crowns. A Crown completely covers a tooth, giving it structure and support.
---
Dental Bridges
A Dental Bridge can help patients achieve a healthy smile and can help prevent natural teeth from shifting or rotating into the space that's created by missing teeth. Much like you might expect, the bridge attaches to the remaining natural teeth on either side literally 'bridging the gap' that is caused by missing teeth.
---
Affordable Full and Partial Dentures
For patients looking for affordable options when it comes to replacing teeth, Grasslands Dental Care offers full and partial denture treatments.
Full Dentures – Full dentures replace all of the teeth in the top and/or bottom section of your mouth, and are usually made from acrylic or porcelain.
Partial Dentures – Partial dentures can be used to replace one or more missing teeth, and are generally made from a combination of acrylic and metal.
---
Root Canal Therapy
We recommend Root Canal Therapy for patients who are likely to develop (or have developed) an inner soft tissue tooth infection. This type of infection cannot clear up on its own. A Root Canal is performed to maintain good oral health as well as perform future infections from developing. If a Root Canal is something you're considering or have been advised to do and are looking for a second opinion – your Grasslands Dental Care Team is here to help. Call us any time at 250-376-5433.
---
Mouth Guards
Whether you're looking to fit your soccer all-star in training or want to prevent night-time grinding (BRUXISM) a custom-fitted mouth guard is worth looking into. Mouth guards are designed to cushion and protect teeth. They can even provide some protection for your head, neck and jaw. Ask your Grasslands Dental Care team if a mouth guard is right for your family's dental needs. Drop by or give us a call.
---
Implants
A Dental Implant is a titanium 'tooth root' that is placed in the jawbone. They are a safe, predictable and long-term method to replace one or more missing teeth, or to support a denture. Many patients choose dental implants because of how much like a real tooth they can be and how stable they can make dentures.
Not everyone is a candidate for dental implants. To find out if dental implants are right for you, please book a consultation with your Grasslands Dental Care Team. We'll help you make the right decision for your oral health.
---